FREQUENTLY ASKED QUESTIONS

FREQUENTLY ASKED QUESTIONS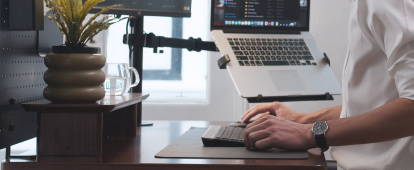 Before buying
Yes! We're 100% home grown and proud of it!
To meet our stringent quality standards, we've had to source our components from all over the world. Some of the parts come from the USA, some from China, some from the Netherlands, etc. But it all comes together in your home.
The EverDesk+ Max and Lite are both built to our exacting standards. However, the Max offers a few extra features over the Lite.
Dual motors: the Max's dual motors means that it adjusts faster and more quietly, and holds more weight than the Lite.
Greater height range: the Max goes both lower and higher than the Lite, so it suits more people. If you're below 160cm, we definitely recommend the Max.
Health Coach: while the Lite has a controller to move it up and down, the Max's Health Coach adds custom sit-stand reminders and custom memory settings.
For more details, check out the full comparison table.
Most definitely!
The EverDesk+ Max has the greatest height range in the market (60cm - 124cm). No matter how tall or short you are, we're confident that it'll fit you.
The Lite doesn't have as large a height range (70cm - 120cm) as the Max, but it still fits most people. If you're shorter than 160cm, we recommend going with the Max because it moves a full 10cm lower than the Lite.
Various table top sizes are available — the configurator above includes dimensions, and will help you figure out the right size for you.
Our frames are designed to fit neatly into the tightest of spaces — they don't jut out from underneath any of the table tops. If the measurements of your table top fit, EverDesk+ will definitely fit. Easy!
Of course you can! We'd be very happy to see you at our showroom!
**Showroom information**
101 Lor 23 Geylang, #01-03,
Prosper House,
Singapore 388399
Monday to Sunday, 11:00AM - 8:00PM
We don't believe in products with a short lifespan. EverDesk+ is built with the highest quality materials and components, so that it will last decades. We've had EverDesk+ tested by various organisations so that we can be sure of it.
📃 View our certifications here.
That's why we're able to offer our industry-leading 10 year warranty.
In droves! EverDesk+ has numerous international certifications, such as by BIFMA, Global Greentag, and ANSI.
📃 You may view our certifications here.
Grommet holes are an inelegant solution for cable management - they're aesthetically ugly and functionally limited.
Instead, we've designed the UniGroove cable management system. The UniGroove and notch in our desks work much better than any number of grommet holes ever can. They offer much more flexibility with cable placement. They multifunctional, integrating with other accessories like shelves and monitor arms. And, they're much neater!
DELIVERY
Yes, shipping is free to anywhere in Singapore!
However, there are surcharges for these scenarios:
- Deliveries to the islands (like Sentosa or Jurong Island) cost $20.
- If there is no lift access above the ground floor, there is an additional $20 charge per desk, for each floor up.
We typically deliver within 3-7 days.
You can select your delivery date while checking out.
Yes!
You can select your preferred delivery date while checking out.
Absolutely.
Leave a comment when you're checking out, or email us at sales@everdeskplus.com after completing your purchase.
We're happy to keep your delivery on hold for 2-3 months
assembly
Yes. There is a $60* fee for assembly service.
You may select assembly service on the Shipping Options page of the checkout process.
*If you select a chair, the assembly fee is $20.
Note:
- Assembly will be provided upon delivery date.
- The assembly service includes all of the accessories that you purchase.
- The assembly service does not include any equipment owned by you.
For example: your own monitor. We will clamp the monitor arm to your desk, but we will not handle your screens (for liability issues).
Warranty & returns
We're proud of our industry-leading 10 year warranty, which we can provide because of how well our products are made.
📃 View our full warranty policy here.
You can.
Contact us within 7 days of the delivery date at support@everdeskplus.com — title your email "EverDesk Return" and include your receipt number in the email.
Please ensure that the items are neither damaged nor missing any parts, and have their original packaging. Note that there is a $100 fee to cover transport, administration and restocking costs.
A damage fee of up to 20% applies if the product is not returned in an acceptable condition.
User Guide